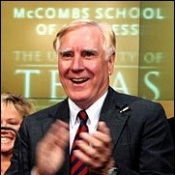 Gary M. Cadenhead, Ph.D. is the Director of the Master of Science in Technology Commercialization (MSTC) Program. Intimately familiar with the MSTC Program, Dr. Cadenhead taught the inaugural Class of 1996 and the Class of 2004.
In four different years, Texas MBA students selected him to receive Outstanding Graduate Business Professor Awards. In 1995, the Kauffman Foundation and the Entrepreneur of the Year Institute recognized him as one of the Top Ten Entrepreneurship Educators of the Year. In 1998 and again in 2003, Dr. Cadenhead and the MOOT CORP Program were featured in Inc. magazine. In 1999, he received the Entrepreneurship Education Pedagogy Innovation of the Year Award from USASBE. In a 2003 survey of entrepreneurship directors commissioned by Entrepreneur magazine, Dr. Cadenhead was recognized as one of the three top directors of entrepreneurship programs in the United States.
Prior to joining The University of Texas in 1980, Dr. Cadenhead held faculty positions at Stanford University, UCLA, and the University of California at Santa Barbara. He has been a visiting professor at the University of Hawaii at Manoa, Ecole Polytechnique Federale de Lausanne in Switzerland, IMADEC University in Austria, and Texas Christian University.
Currently, Dr. Cadenhead's professional activities involve advising new ventures, mentoring two new venture competitions, consulting, and serving on the boards of several entities.