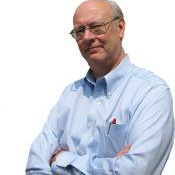 Gary Hoover began his entrepreneurial journey at an early age. He grew up in Anderson, Indiana. Convinced that the best way to change the world was to lead or create enterprises, he started subscribing to Fortune Magazine when he was 12. He visited hundreds of corporate headquarters and offices before he was 18, and studied the stock market in depth. His question was the same, "What separates the losers from the winners?"
As part of his education, he studied economics at the University of Chicago under Milton Friedman and two other Nobel Prize winners.
At the age of 30 he created pioneering book superstore BOOKSTOP. This company was sold to Barnes & Noble for $41.5 million cash when it was 7 years old, which in 2007 did over $4.5 billion in sales out of 700-plus stores.
After he and his partners sold BOOKSTOP, Gary began a small business information publisher. This company evolved into Hoover's, Inc., the world's largest Internet-based provider of information about enterprises. In 1999, Hoover's went public and in 2003, the company was purchased by D&B for $117 million.
Today, Gary Hoover travels the world speaking to Fortune 500 executives, trade associations, entrepreneurs, and students about how enterprises are built and how they stand the test of time.
From his own successes and failures, and from the lessons of the thousands of companies he has studied, he draws real-life examples of the things that really matter. Gary speaks from long experience and long study about the big picture, about the critical components of the successful business mission.
Gary lives in Austin, Texas, with his 50,000-book personal research library. In Austin, he has worked to develop entrepreneurial thinking among local young people, helping to create a group of students who meet monthly to learn the keys to entrepreneurial success.